Kaleido Star: Hajimete no Sugoi Daikiri (from second mini album)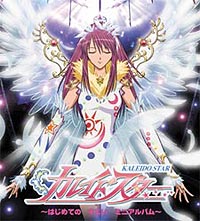 Summary: Sora, Ken, and the gang are entertaining kids traditional Boke/Tsukkome comedy style, while introducing and generally making asses of themselves.
Review: Ken as the Boke and Leila as the Tsukkome is totally perfect. I wish they'd done this sort of thing on the show more often. Sora and Rosetta are just kind of there in the background, but it's still awesome.