Kaleido Star Sound Illusion 1: Ashita no Sugoi Kaleido Star Aries Stage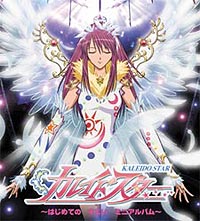 Summary: Set in the Maboroshii Oowaza arc, everyone's competing to be Leila's partner. But who will win? And why does Fool keep spying on everyone?
Review: Wow, Rosetta really ganbatted this entire time. I wish May would just drop dead. :/ She's SO fucking annoying. a;sldkfja;dsfkjasdlfkasdf;laskdfj DIE. Fool's a perv, guys. Ew.
Mini-dramas:
Kaleido Star: Ima made no Sugoi Ohanashi (from Hajimete no Sugoi Mini Album)
Kaleido Star: Hajimete no Sugoi Daikiri (from second mini album)
Kaleido Star: Tsuini Jitsugen Sugoi Dame no Futari (from second mini album)
Related:
Kaleido Star (anime)
OAV