Kaleido Star: Tsuini Jitsugen Sugoi Dame no Futari (from second mini album)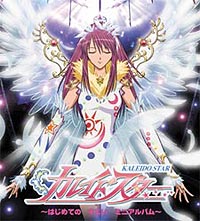 Summary: Ken and Sora's crew fight over what should be done regarding plans for designing the new kids only show.
Review: @__@ Ken you sap. You almost revealed your feelings for Sora! Stop bitching about your hard work. Just open mouth and insert foot. SLD:JKFDSF Stop acting like a woman.